What is it ?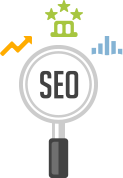 Search Engine Optimization is a methodology of strategies and techniques used to increase the amount of visitors to your website by obtaining high-ranking placement in the search results pages of Google, Bing, Yahoo and others.
Why Start?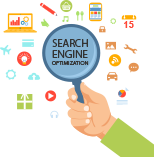 Search Engine Optimization is a long term investment to drive large amounts of visitors to your website through organic search ranking results without the cost of Paid Per Click on each visitor.
Our Solution

Ideal Visibility will help you achieve organic search results with our vast experience in SEO. First, we determine your keywords and your goals. We then prepare a capaign using ethical tecniques to maximize your position thus driving more visitors to your website naturally.
Law Firm SEO Agency for Improved Business and Credibility
Search engine optimization or SEO is essentially getting your web pages organically show up higher in search engine results. But on the highest level, law firm search engine optimization involves finding the target audience and connecting them with your law firm so that they could get the best attorney to meet their law needs.
Our specialized law firm search engine optimization services combine expertise of our webmasters, designers, social geeks and content writers to deliver high conversion performance for your law firm.
As a specialized law SEO agency, we are constantly innovating, creating and experimenting to deliver you solutions that work despite abrupt changes in SEO algorithms. We make use of latest SEO tools, technologies and tactics that wok.
Custom solutions that deliver results
Every law firm has its own specific needs, and Google makes more than a hundred changes to its algorithm each year. Truth is that SEO takes time to deliver results; it's a hard nut to crack and baffling too. It's smart analysis, dedication and sensible innovation that actually guides you to predictable results and leads to search engine success.
Our law firm SEO experts have the knack of all these fine change and feel the pulse of changing online marketing dynamics. Our experts thoroughly and thoughtfully optimize your law firm website.
Our law firm search engine optimization services include:
Fixing all indexing problems
Carrying out technical audit of the website
On-page and off-page optimization
Filling the website with engaging, usable content optimized with SEO keywords
Checking Google page speed insights for areas of opportunity
Making the website load quickly
Keyword ranking monitoring
Set up and manage social media accounts (Facebook, LinkedIn, Google+, Twitter etc.)
Creating case studies and sharable infographics
Monitoring Google algorithms for tracking changes and updates
Writing and distributing thought provoking articles, blogs, press releases etc.
Set up website sponsorship
Influencer outreach
And a lot many other things that you need not worry about right now.
We build your authority, help you become a though leader, both on search engines and the markets you compete in.
Though we begin working systematically, we understand that there is always room for innovation in SEO, and that's why we keep aligning our strategies and campaigns as we progress along to create a brand value for your law agency.
We know that you will be able to do much better with our expertise and resources at your disposal. Call Ideal Visibility today to have a free primary audit of your website and let the needle keep moving up and forward for your accelerated law firm business growth.
Ideal Visibility has a group of passionate, seasoned experts that work dedicatedly to get sterling success for your law firm. Call us today to explore if our law SEO agency is the right answer for your business. We are honest and upfront about our services, prices and promises! If we believe we have the right solution for your peculiar business needs, we will move on else we will let you know upfront so that we do not waste each other's time.