What is it ?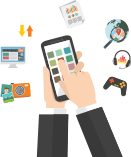 A mobile app is a software application developed specifically for use on small, wireless computing devices, such as smartphones and tablets, rather than desktop or laptop computers.
Why Start?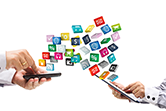 With Mobile Smartphone use extensively growing, it is essential to have mobile applications on all platforms to take advantage of customers looking for services and products. Even if your website is mobile friendly, your mobile applications are essential for not falling behing on a growing mobile application demand.
Our Solution

Ideal Visibility will help you develop mobile applications for all platforms including Apple, Android, and Windows. With our designers, you will be able to create an easy to use, mobile and tablet friendly experience for your customers to grow your revenue and profit stream.
Mobile Applications Are Essential To Your Business
TWhile a Website is a vital tool for you to promote your products and services and acts as a one-stop shop for your users, the number of mobile users is ever-increasing. Most of these mobile users also access the Internet on their smartphones and other mobile devices. Today, everything including commerce, trading and payment is handled on mobile. That being the case, mobile apps have proved to be the very future of computing. Developing a mobile app and promoting it among your users is hence extremely beneficial to further your business.
Customer Engagement.The best thing about the mobile channel is that it gives companies the potential to engage with their customers in real-time, by location and complete with profile information.
Customer Service And SupportMaking it simpler and more efficient for your customers to get in touch with your company and offering them tools to make their life easier while using your products or services can be a great reason to develop a mobile app.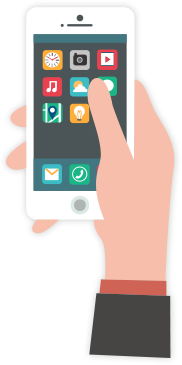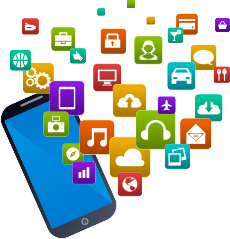 Mobile App Vs The Mobile Web
When it comes to deciding whether to build a native app or a mobile website, the most appropriate choice really depends on your end goals. If you are developing an interactive game an app is probably going to be your best option. But if your goal is to offer mobile-friendly content to the widest possible audience then a mobile website is probably the way to go. In some cases you may decide you need both a mobile website and a mobile app, but it's pretty safe to say that it rarely makes sense to build an app without already having a mobile website in place.
Generally speaking, a mobile website should be considered your first step in developing a mobile web presence, whereas an app is useful for developing an application for a very specific purpose that cannot be effectively accomplished via a web browser.